This year I had the crazy idea of making nearly all of the Christmas gifts for my friends and family. I have no idea if everyone will like what they receive, but if they don't I hope they give their gift to someone who will. (
You hear that, people?? No presents sitting in closets - give them away!!
)
For whatever reason, this year was the
Year of the Cowl
There's a really bad Chinese astrology joke in there somewhere, but I'm still working on it...
For those that I thought a crochet gift was best, nearly all of them received a cowl scarf. Bizarre, considering I don't even own one. I tend to make people things that I know I like, but for whatever reason I was drawn to these this year. Growing weary of the dark, cold weather makes me want to hole up inside with Netflix and some yarn. Good thing I had something like Christmas as an excuse to do it...
I had the good fortune of purchasing the book
Convertible Crochet
by
Doris Chan
. Thank goodness for Doris. She talks about crochet, Star Wars, and Tetris in the same paragraph. God bless the publishers who let all that slide.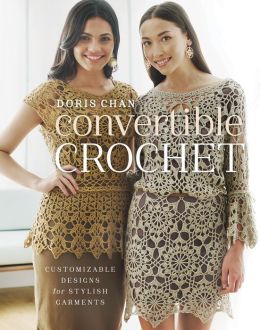 All of the designs in this book are constructed of shapes with detailed insets: squares, pentagons, hexagons, and octagons. Doris says you can change the fit of the garment with where you choose to put what shape, but for right now I'm sticking with cowls made of squares...
Anyway, I made two of the cowls you see here. This one is in a pretty neutral yarn; the other is in a jewel tone ombre between deep amethyst, emerald, and fuchsia.
The cowls are constructed by stringing together several square motifs, which you can see more clearly in the two pictures below.
I also made a scarf of a similar pattern, which I foolishly forgot to photograph before shipping it off to Utah. Let's hope it gets lots of use!! I can, at least, show you what yarn I used. I chose the readily available Caron
Simply Soft
in Autumn Red.
These projects are for my mother-in-law Barb, and two of my new sisters-in-law, Alli and Mo.
Cowls and Fingerless Glove Sets
As a person who has freakishly long thumbs, I sometimes find the hunt for gloves daunting. For this reason, I tend to never look for gloves unless I'm in a dire situation. I stick with the snowboarding gloves my mom bought me before I moved to Boston. (Thanks, Mom.)
I've thought about crocheting myself a pair of gloves, but then I think about making the fingers...and I am done. with. the. idea.
But then I thought about fingerless gloves!
No annoying fingers to make, and if you're like me and get cold hands around the house, perhaps fingerless gloves are a great option.
Thinking on this, I made a set of fingerless gloves for my Nana and Grandma. Each of them also got ----- you guessed it. A
COWL
. The pattern I used for each of them is the
Cowl a la Mode
pattern, available for free on the
Red Heart website
.
For Nana
:
This yarn is sooooooo soft. The color is called "snow."
Simple rows of double crochet clusters
For Grandma:
My grandma's cowl is made out of organic bamboo yarn. So soft; so fancy.
Same double crochet clusters, but they somehow look different, right? Crazy!
I had a great time teaching my sister how to crochet while we were together over Christmas. Now that presents are done I have to decide what to make next!!