This jacket is the last of my maternity projects. I started it in my last month of pregnancy and finished it in Robin's first weeks at home. Things are settling down but the home uniform is still a bath robe, which is why you're getting only dress form photos. :)
Butterick 6301 is a super practical jacket pattern with a center insert that transforms the jacket into a maternity or baby carrier option. Though I never needed to purchase a maternity coat through pregnancy, I figured a coat that would allow me to zip Robin up while in his carrier would be really useful.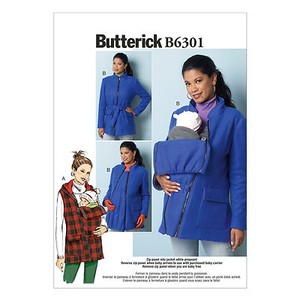 The fabric is from my stash, bought many years ago on clearance.
The lining is leftover from Christmas gifts a few years ago, and it makes me happy...all covered in kitties. :)
So, the only supplies I needed to purchase were the three separating zippers. My local store didn't have three 26" in stock in an appropriate color, so I had to buy 28" zippers and instead lengthen the jacket. (I figured I'd have to lengthen it anyway for my long torso, so this wasn't a big deal.) The zippers are a warm gray, and I think it is a nice complement to the tan/slightly purple weave of the mystery clearance polyester/wool.
The only stylistic alteration I made was to the collar: I shortened it by half its height. I don't do well with turtlenecks or itchy collars, so a short one means I won't have to deal with that at all. The front princess seams are topstitched, as is the lower half of the center back seam.
The inside features a label (thanks, mom!) and joyful lining, much of which I handstitched.
Now, onto the insert. It's reversible, which is how you can get the two options out of it. Figuring out the zipper direction for sewing was confusing until I decided to not look at the directions and instead to pin and zip it into the finished jacket - much clearer through tactile understanding over 2D pictures.
Maternity-belly insert
Side View of maternity belly insert
Here's how I plan on wearing it this spring, with Robin in tow.
One day when we aren't all so tired and in comfy clothes all the time I'll add a picture of this jacket in action - with baby and all!!