Stash-busting projects are the best. When you don't have to buy
anything
to make a garment because you have perfect leftovers.
This top is one of those projects.
She's a simple one: Simplicity 2756, one of the first released Project Runway patterns. The idea behind these is that you pick and choose what elements you want to make, and the envelope tells you how much added material to purchase for a ruffle, bubble sleeve, long sleeve, yoke, collar, or any combination of the above.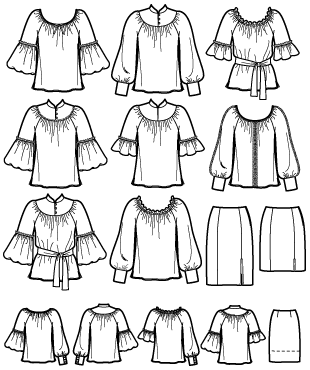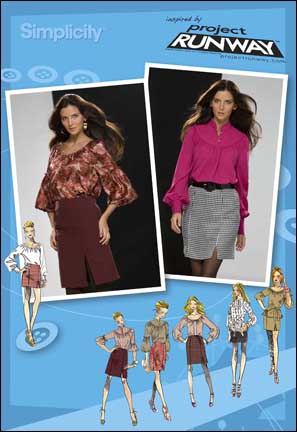 I've used this pattern twice before, both long before I started blogging. One of those projects was part of a costume for the musical
Little Women
. The yoked, long-sleeve version was perfect. I used velcro anywhere a button would be for quick changes, and combined with a long skirt from a different pattern, made a perfect outfit.
But back to this project!
The material is leftover from when I made
Butterick 5814
years ago, while still living in WV. The dress fit alright, but a long torso adjustment was too fiddly and I would up giving the dress to Goodwill after one wear (and subsequent wash, of course!).
I like this top a lot. I've always been a fan of raglan sleeves, and I love the colors of this fabric, as well as the open neckline. Due to a slight shortage of fabric, I shortened the sleeves and finished them with a narrow hem. I rather like the simplicity and proportion of it.
back
I graded from a size 6 at the shoulder to a size 12 at the hip, lest I accidentally make a mumu instead of a top. Inside seams are either serged or French seams, and the neckline is bound with single-fold bias tape. It was an easy make, and a satisfying one as I got to use the remnant stash.
Can't believe it's been April since the last post. Husband and I have been traveling everywhere and playing concerts in different cities, so we've had a lot to focus on the last two and a half months. I've been sewing: 1 maxi dress, 1 tunic, 1 bespoke shirt for husband, and now this top - but there's been no time to blog. I've barely had time (and energy) for work email, practice, and home improvements (like a brand new DIY backsplash across our entire kitchen) as it is.
Anyway, onward and upward, with hopefully more blogging as we go!