I've attempted a few men's shirts in my time as a sewist, but this one I am actually proud of!
Stripe matching? check.
Slim fit? check.
Flat-felled seams? check.
Pattern
The pattern I used was Vogue 7925, released in 2004.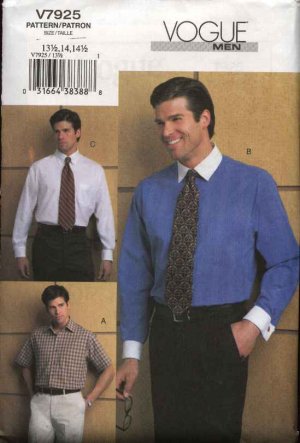 Technically, I made View C, sans collar buttons.
It's obvious by the fit on the model that the shirt is more of a box shape than a fitted shirt. Because husband looks good in clothes that fit rather than box shirts, I ended up heavily altering the pattern pieces, and in most cases drafting my own! Aside from the sleeve plackets and cuffs, every single component of this pattern was redrawn with my husband's proportions in mind.
Here are a few of my changes:
BACK - took out significant width, from the center back seam and the sides.
YOKE (sorry upside down) - removed width and length; added the length to top of BACK
SLEEVE - took out width everywhere Seriously, otherwise he'd be casting spells in those sleeves
I also redrafted both front pieces, the button band, collar and collar stand -- even the pocket. The pocket was too big and buffoonish. I created a slimmer, taller pocket, which I think suits the slimmer cut of the shirt much better.
The Shirt
Speaking of pockets...
I'm proud of the sharp corners and the stripe matching. Bam!
The fabric I used, as you can see, features stripes. The colors are white, light blue, navy, and a pretty color that Pantone people would call
Marsala
, which happens to be
2015's Color of the Year
.
The photos make it really difficult to capture the true colors of the shirt, but trust me, it's beautiful. I also bought the fabric in the Fall of 2014 on clearance, so hooray for me for being ahead of the trends.
I'm proud of the sleeve plackets. My best ones yet!!
I think this shirt is my most successful one yet because I used a tailor's ham to press most of the seams, whether in the flat-fell process or afterwards to make them pretty and crisp.
Thanks, Olivia, for the tailor's ham! I should mention to you all that there's a lovely lady in Dickson (besides my Nana) who happens to have gifted me various sewing items that she has no use for anymore. We've never met in person, but she has given me a serger, a cutting mat, and a tailor's ham. She knows not what kind of monster she's creating.
Let's talk about beautifully pressed collars, hmm??
No, it's not perfect. But it's pretty damn close. Also, BUTTONS!
Really, though, I used stiffer sew-in interfacing for the collar than the button stand and cuffs, and I'm really happy with that decision. It isn't that awful super stiff stuff, but it isn't floppy at all, which I like. Ain't nobody like a floppy collar, mmhmm.
Speaking of cuffs...
As husband would say when he's sorting socks - MATCH!!
The finishing touch on this project was to add a label. My parents gave me some for Christmas, and I'm kind of obsessed with them. They are different colors to coordinate with whatever I make. I chose a two-tone blue one for this shirt.