Here it is! The first project made with my serger!
I couldn't believe how much faster a garment can come together with a serger instead of just a machine. This top is View C from Vogue1389, a Donna Karan design.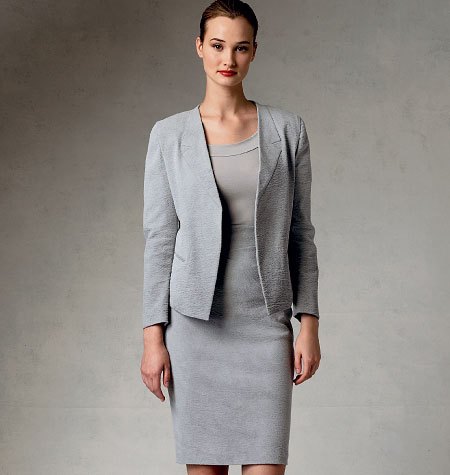 I love the raglan cut sleeves, and the front that extends to the back. After wearing this top at work all day and never having to mess with it in terms of riding up (thank you, hips) I think this seaming really helps.
Here's how I wore it to work today. Notice the cat.
I also added an inch to the torso above the waist and another inch at the hemline to accommodate what my husband calls the "long middle." My height is in my torso, a fact that actually got me to sewing in the first place. I was tired of the waistline of dresses hitting the middle of my rib cage. Uncomfortable.
Here's a more detailed shot of the raglan sleeve and neck binding.
I bought this knit on super clearance because I thought I could use it for a project just like this - a first serger project. I like it, but I knew if it was a "learning" garment rather than a wearable one I wouldn't be totally devastated. In a way the sparkle screams 1970s, but in other ways I could easily pair it with my black concert skirt and perform in it.
Did I mention this top is absurdly comfortable? I think I'm going to make like, 35 more of these and live in them for the next two months.
Oh, and did you SEE the line drawing of that pencil skirt????
It's high-waisted and has interesting seaming. Beautiful with boots or heels or flats or tanks or shells or long sleeve shirts. So beautiful. I have a cut of material in the stash that will be perfect for it.
I will leave you all with a glimpse of life with Leeloo.