Wrap dresses are one of the most flattering dress styles. When a wrap dress fits well, there's hardly anything else that looks better. With this first attempt, I think I've got a good start.
The dress fits my dress form better than me, which is why she's modeling the pictures for us. :)
This dress is a combination of McCall's 7246 with the sleeves from Burda 112B (10/2015 issue). I love the trumpet sleeves, and since part of my winter sewing list is to work on my sleeve insertion, I figure this was as good a time as any. The little pleats in the bodice of M7246 caught my eye.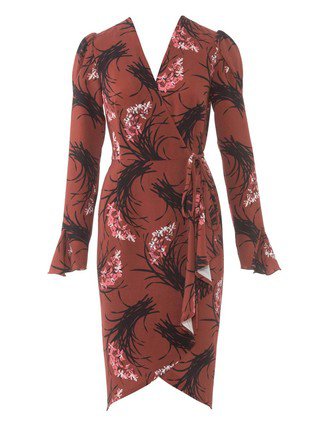 Burda 112B
M7246
Confession: I hate printing out pdf patterns. It seems like such a waste of paper (even though it isn't, because
sewing
). So, upon finding M7246 in the stash, I figured I could save myself the pdf headache and simply print the sleeves only!
Huzzah!
As was expected, the McCall's pattern had way too much ease built in, and even though I graded between sizes (8-10-12), I still ended up with something that needed some major doctoring once it was sewn up.
Back view. You can see how bubbly the sleeve caps are.
I didn't make a muslin because the sewing mojo was hibernating, which is unfortunate because this fabric is so lovely! I bought it in Adelaide, South Australia as my souvenir from a trip over New Year's. It has a beautiful drape and rich, saturated colors. I realized, though, that despite using a super thin needle and strengthening every seam, the fabric is perhaps too fragile for a wrap dress. So, it's going to be lots of *gentle* tying of the bodice around here, not to mention wearing camisoles in case said gentle ties decide to boycott.
Side view
There aren't many long sleeve dresses in my closet, though the collection of 3/4 sleeve knit dresses and tunics is growing. I'm hoping I'll get lots of wear out of this dress, especially in the coming weeks as our weather has turned cold again.
There was a bit of debate about which skirt to use: McCall's or Burda. What I did is fine, and I was running so low on fabric that I didn't really have much choice, but I think that next time I want to make a woven wrap dress I shall do it with the pencil skirt from the Burda pattern, especially if I want to use those sleeves. My sleeve caps have a bit too much air in them for my taste, but at least they make a statement, no?
Sleeve close-up
The insides of this dress are finished nicely, with either French seams or clean, serged edges.
French seams on shoulders and sleeves. Serged edges on the facing and sleeve inserts.
And I found a label in my collection that nicely complements the colors of the fabric.
This dress, though it's very pretty and I really like it, gets about a C+ in fit, which means I won't wear it too much, sadly. I did learn a lot, though. From sleeve insertion to last minute fitting decisions, I learned a lot about wrap dress proportion, sleeve balance, and fabric requirements (in length and characteristics).
Next up is another long sleeve dress, this one from a beautiful sweater knit I found at the local fabric store. :)