This was one of those projects that I rescued from the void of
NEVER TO BE FINISHED AND NEVER AGAIN.
It's a real place, you know - right between Valyria and Westeros.
Welcome to our new dining room. It looks like autumn.
Let me start at the beginning.
I wanted to make my mom a dress for her birthday. I've made her several garments before, most of which have gone unblogged, save for the cape I made her last Christmas. I thought Butterick 5522 could be interesting, with its groovy sleeves and relaxed silhouette. I figured that since she isn't nearby, I needed a pattern that didn't need too much fitting, so this would work.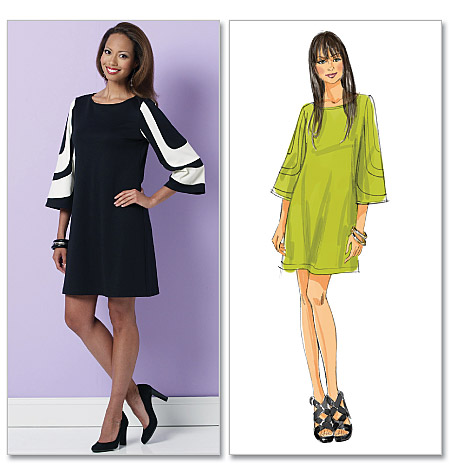 Because mom's birthday crept up on me before this dress was finished, I sent her an in-progress photo. Her appropriate motherly reaction of "oh, the sleeves are
interesting
" made it pretty clear that if I gave this to her it would sit in a box in her closet. (I've seen her closet. No more room for boxes with stuff in 'em.) So, I decided I would either a)abandon the dress, or b)try to save it and keep it for myself. Originally, I ran into issues trying to make this for mom because I miscalculated my knit:woven conversion. But, once I decided to keep it for myself, I realized I could fit it however and add a zipper if need be.
I didn't, by the way, because sometimes simpler is better.
Once I decided to keep it, here's what happened...
The pattern was a good choice. Where I went wrong was the material. Instead of a jersey, (like the pattern suggests), I decided to convert the pieces for a woven material, and (for some reason beyond me) chose plaid. I saw this material and immediately thought of my mom - not sure why. She doesn't exactly go around in pastel tartans, but I guess I've seen her wear it from time to time? Anyway, I thought she might like it. Surprisingly, it has grown me - and now
I
like it!
Since I was converting a knit pattern for woven fabric, I cut one size up from normal
and
decided to cut the material on the bias rather than with the grain.
Bias
is a fancy word for on the diagonal. I have always liked the look of plaid on the bias - something about it takes away the potential of looking like a Christmas table cloth.
The somewhat '60's vibe of the silhouette made me think that this material, which would normally be a little too heavy for a dress, could be a good option. And in some ways it works! The sleeves don't collapse, which I like, and the skirt keeps its shape, too.
There's a bugle shape to the sleeves (that one's for all you music nerds)
I added little ties that help cinch in around my waist a little bit, which keeps the dress comfortable but flattering. I've decided the sleeves are pretty hilarious, but I LOVE THEM.
Check out that plaid matching across the back center seam!!!
I am very proud of my plaid matching around the dress: side seams, back seam, even down the midline of each sleeve. There's no match at the armscye, but ya can't win 'em all, so I don't mind that.
This dress is great for late fall and winter. Its heaviness isn't suited to the warmth of early autumn days, but it will go easily with tights and even a long sleeve shirt underneath. Naturally, some cute brown boots are a must.
Loo Cat, my modeling coach
In trying to take a picture of the neckline I was forced to take a gratuitous photo of myself since husband was still at work.
And when I did I found myself bothered by the gaping at the front neckline. Arg. I used the contrast white fabric for my facing because the plaid was just too thick. I nearly always use thinner fabrics for facings, especially when I know they will be hidden.
This is the first time I've managed to save a garment from the abyss of
Never to be Finished and Never Again
. Sometimes it's best to acknowledge that an idea was bad, or that a project isn't meant to be. Usually, I will finish the garment and promptly give it to Goodwill, hoping that it will be just what someone needs. (As someone who shops at Goodwill from time to time, it's awesome when you find something like that!) But, this time I decided to stick with it, and I'm glad I did.
I've decided that, since it's almost late October, it's time to switch to cold-weather sewing. We'll see how long this lasts, but right now I'm planning some 3/4 and long sleeve knit dresses.
We shall see. Lovelovelove