When I happened upon this Nicole Miller fabric, I immediately thought of my mom. It is full of her colors: turquoise, pink, and nice blends of green (which she doesn't necessarily love, but look gorgeous on her!).
It pairs perfectly with one of Rebecca Taylor's recent Vogue patterns: V1387. I made View A, as I was drawn to the defined waist and the wrap style that allows for flexibility in terms of neckline.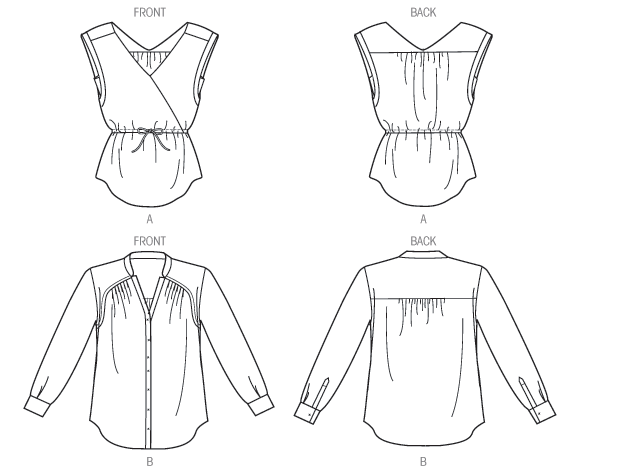 The double pleats at each shoulder (which are missing from the line drawing...) allow for flattering drape in the front. I staystitched each neckline edge, though it was not in the instructions. Without it I think there would be a gaping issue in the front.
The sleeve insets are really interesting! I've never made a top with them, but I might be adjusting every pattern to have this construction.
Side seams are finished in the French style, and the narrow hem at the bottom looks particularly polished, if I can say so myself. Turquoise, being my mom's favorite color, contrasts yet blends with the print.
The easy fit of this top allowed for easy pattern grading, as I had to estimate what size to make for my mom. This fabric also has a tiny bit of stretch, which will make up for any tight spots.
I used bound buttonholes at the drawstring waist, as I thought normal ones would look a little too homemade for this material. They are hard to spot in the print - but they're there!
Hopefully Mom will be able to pair this with denim, khaki, black, white, and just about any other color on the bottom. The print is rather expertly designed in that regard!
Added a Creative Laurels label, and it was done! I found some clip-on earrings that complement the style and complete this Mother's Day gift.
Hope she likes it!! Happy Mother's Day, everybody!